09 Jan

The Kitchen Cabinet in Cambridge review

All you ever wanted to know about food – A few weeks ago I was approached by the BBC4 to promote the Kitchen Cabinet under Foodies in Cambridgeshire. In times like this, you realise the effect of social media. Many Foodies must have picked up the news on Twitter and Facebook as the BBC had to shut down the booking facility on their website on Wednesday evening already instead of Friday.

The huge response wasn't only noticeable online, but on the day itself too. I am not sure how this could have happened, but too many people had allocated seats so many couldn't attend the recording of the Kitchen Cabinet. I was lucky to get in as I had reserved seats as one of the promoters of the event.

After posting the blog I had a comment from Jay Rayner himself:

"On the tickets issue, they are administered by a separate part of the BBC. Because we do not charge usually only about a third of those allocated tickets turn up. Generally, they get it bang on. This time, perhaps because it was a mid-afternoon record, there were too many people, though they were warned at the time of applying that this could be the case."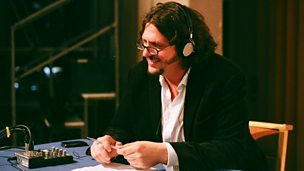 It was fascinating to attend a recording of a radio program, especially with interesting characters like our local food writer and co-owner of Fitzbillies Tim Hayward on the panel and the host Jay Rayner. It was definitely a recipe for a witty and informative afternoon with these 'kings' of the British food emporium. However, the new kid on the block and the only odd one out as he has no Cambridge connection, 2011 Master Chef winner Tim Anderson was a great sport to listen to too.
I have to admit, that I had heard from the Kitchen Cabinet, but never listened to it as it is during working hours. I really enjoyed it. Unfortunately, it is the last one out of the series, but I will definitely make a note of it for next season. The panel discusses many foodie topics such as recipes, history and odd foodie facts. Well actually if there's anything you ever wanted to know about food or cooking but didn't know who to ask, then the Kitchen Cabinet is the program to tune into.
It was a real homecoming program as Angela Hartnett studied in Cambridge and started her culinary career here whilst living in Gwydir street. One of her favourite foodie haunts was The Gardenia for her late night snack, chicken kebab.
Dr Annie Gray lives just up the road in Ely and is a food historian specialising in Georgian and Victorian dining.
The only person with no link to Cambridge was Tim Anderson. He is the 2011 Masterchef winner and has a keen interest in food-science and a wide culinary knowledge based on his own food-tourism. He studied in Japan and he took me by surprise, explaining he did a thesis on Japanese food museums. Back home in Amsterdam, we have some unusual museums, but I have to admit I have never heard of Food museums. There was me thinking these are museums. Actually, they aren't museums, but food emporiums and are supposed to be educational but are actually just fun food theme parks.
How to get the audience in the right mood?
Just ask them how often we clean our fridge. That was an eye-opener!
So what did this 'young team' rustle up in their students day?
Tim Hayward tried to impress his girlfriend with a chocolate mousse ice cream with mint in the middle. It was so nice and consistent that she broke her crown!
Tim Anderson didn't cook but ate a delicious slice of pizza from the bin (in the street).
Angela Hartnett didn't really cook anything terrible. They used to live on bean and sausage casserole.
Dr Annie Gray tried to impress a group of friends and a male friend by rolling out the greaseproof paper on the floor and using it as a working surface to prepare pasta and pheasant casserole. She cannot remember if it did the trick though. So probably not!
About Japanese food
One of the hilarious moments was when Jay said " Tim you have a very clear opinion on Japanese food. So can you tell us more?" Tim Hayward replied: " Do I?" This then was repeated and then only after 2 times around, Tim realised what Jay meant and it took another 3 takes to get it right….Tim likes Japanese food though or was this a twist of Freud?
So what is Tim Hayward's view then on Japanese food then? The best Japanese food is hardly around in the UK. It is bland and tasteless and all of a sudden has become hip. Sushi actually is street food from centuries ago.
An interesting fact is, that curry was introduced around 1860 by the Brits in Japan. This really took me by surprise. The Japanese saw the strong British army eating (Indian) curries. So how to get an army strong? Feed them 'British' curry.
I love miso soup but have never really explored the variety of bean pastes. I was really glad Tim Anderson explained the differences and I will certainly add this to my large selection of spices. He brought 3 types of Miso
Red Miso – red bean paste, soft and almost like a less salty Marmite.
Inaka Miso – country style/ mixed Miso, it has a spicier and a fruity taste
Hatcho Miso – very black and strong almost like balsamico.
The red miso is more an all-purpose type of Miso. The Inaka Miso you can use for marinating or rubbing into meat. The Hatcho Miso is perfect for red meat, game and will you believe it for desserts!
So you are first-time Japanese chef. What do you cook?
Apparently tempura. It is very easy and you can use all the leftovers in the fridge. Even cheese. This was a bit of a joke as the cheese was the leftover product of Christmas. So how many variations on them can you make?
Tempura is actually not Japanese but originates from Portugal. I am keen to find a Portuguese recipe though. It is very important to use sparkling water. Tim Anderson adds an egg to the batter. Angela doesn't. I think the egg probably gives it a fuller of taste.
Why is Japanese fish extraordinary?
According to Tim Anderson, it is one of the 8 wonders of the world. As a former fish buyer I can see that. The difference between Cornish and Japanese caught fish is the treatment they get. In Japan the fish will be at the restraurants within hours and it is chilled down straight away to very low temperatures.
Why are carrots orange.. 
I have to admit as a Dutchie I had forgotten about it, but they used to be white or purple. To honour all the succeses of the Dutch army ( the Royal family is called the family of Orange) they cultivated orange carrots.
Some great tips.. 
What to do with celeriac?
I love making a Daupinois with it just like Angela, but recently I have rediscovered it frying it with other root vegetables such as beet root, carrots and onions and sweet potato. It is very nice with tomato puree, red wine, chillies and oregano. Reduce it and serve it with couscous or pasta. You can add chorizo too. I used it also with Duck confit and white wine with shredded lasagna sheets.
Tim Anderson suggested a Japanese recipe: pickle it. It sounded fantastic.
About baking bread….
Tim Hayward suggested to put a stone in the oven. You can put the bread straight on top of it. The best ones are from a grave yard. Really? As it is not a very good idea to 'rob graves', Tim suggested to buy a marble cheese platter, take the rubber feet off and put it in the oven. Before you put the bread into the oven, throw a cup of water into the oven. This will give the bread a nice crust.
Hottest trend… 
Kale crisp! Tim Hayward "Really?"
Tim Anderson dries them out in a slow oven, but Angela wraps it in cling foil and puts it in the microwave to dry out.
 Only in Cambridge… 
You can find a huge spit fire in the colleges on which they can roast a cow and the biggest chip pan ( deep fat fryer).
You can eat swan. Well not really! Who is allowed to eat swan in the UK? The Queen and there was some doubt if St. Johns was allowed to do so too.
I did know the answer as for my food tours I do extensive research. Actually the fellows of St. Johns are allowed to do so besides the Queen. There used to be swan traps on the river side of the St. John's. However for the last 25 years no swan has been consumed here.
I was very surprised to hear, that one of the people in the room had a swan at a May Ball supper in 1981 as I thought the fellows were the only ones, who could eat them. Maybe because of the occasion they were allowed to.
There was another person in the audience, who had a fast food meal in China with his parents in law and didn't know what he was eating after having finished the plate. I only can imagine what he felt like. I used to be a keen active horse rider and somebody once told me that the juicy steak I was shocked finding out I was consuming was a horse steak.
Nothing compared to my stroll on a Chinese market about 16 years ago. It is then when you realise that cultural differences are fascinating and interesting. Travel opens your mind and perspective. It is food for the mind.
Gerla 
ps fancy listening to the program. You can tune in here.